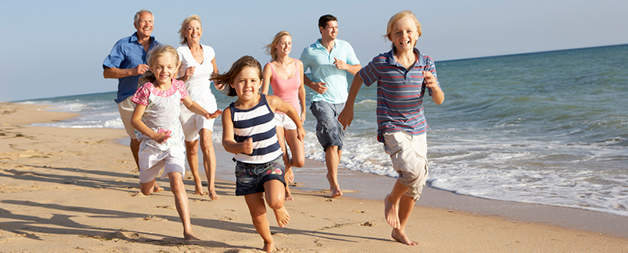 Family Activity
According to the World Health Organization, physical inactivity is one of the leading risk factors for death today. Furthermore, on a global scale, 25% of adults are inactive, and 80% of children are not physically active enough. That's 4 out of 5 kids!
These are genuinely troubling statistics, as there's a very good chance that these inactive children will grow up to be inactive adults. So how can we help our kids avoid the negative health outcomes they will be faced if they don't start to get moving?
Luckily, there are simple, fun, and engaging ways to make physical activity for you and your family a habit. It also comes with the side benefit of getting some quality family together time, and there's nothing that can replace that.
Most health organizations such as WHO have given recommendations for physical activity:
• Kids and teenagers aged 5 to 17 should get at least 60 minutes of exercise daily.
• Adults aged 18 to 64 should aim to get at least 150 minutes of exercise per week. For even more benefits, the recommendation is 300 minutes of exercise per week.
• For people over the age of 64, the same recommendations apply. Aim for 150-300 minutes of moderate-intensity exercise weekly.
Some ideas on how to get your family active:
Be the example they need
Whether we realise it or not, our kids look up to us for example. More often than not, what we do sends a much more powerful message than what we say. Parents often urge their children to be more active, yet they don't follow that advice themselves.
Setting a positive example for your family is a powerful way to make everyone more active. Being physically active makes you happier, fitter, healthier, and more productive. These positive qualities are contagious, and before you know it, your kids will want to be a part of your activities.
Plan 1 active day for your family each week
An excellent way to be active, have fun and build healthy habits. This very quickly becomes a day or a time that kids will really look forward to and remember for years to come. For example, if there's a beach not too far from your home, you can pack a bag, load up the family in the car and go there for the day. You can teach your kids how to swim, play beach volleyball or cricket.
Find a bushwalk near you. Great for walking, and enjoying and learning from the sights and sounds of nature. Geo caching (look up the app) can add a fun adventure element to a bush walk as well.
You can also go for a picnic at the local park, visit a museum, take a road trip to a point of interest near you, or go to a fun park for the day. You can even organise a bike ride to a nearby town. As long as you are together, are physically active, and your faces aren't glued to a screen, you're doing it right!
Strategically include physical activityon a daily basis
This requires a bit more creativity, but it's well worth it. E.g. instead of driving your kids to school every day, have a day or two each week where you walk or cycle there. If their school is too far away, park your car 10-15 minutes away and take a nice walk for the rest of the way.
You can also plan for some fun activities at home. You can install a basketball hoop in the yard and play with your kids. You can cycle around the neighborhood with them after dinner. You can play hide and seek. You can even buy a skipping rope or a Frisbee and play with them.
If your kids are fans of a certain sport, get out and do it with them when you can, this is a great way to entertain yourselves, bond, and stay active.
Get creative; it's just about consistently doing something, so why not make it fun with the family as well.
Reference: World health organisation http://www.who.int/mediacentre/factsheets/fs385/en/
Family fitness

With less time and space for safe outdoor activities, and more electronics competing for your child&...